August 18, 2021
Last Wednesday, Yu Ming students gathered on the blacktop at each one of our three campuses for a much anticipated first day of school… in person!
"I'm not nervous at all–I'm joyful!" said parent Shauna, as she watched her Kindergartner walk through the gate of the Chestnut campus. Driving to Yu Ming from San Lorenzo, Shauna declared, "this school is such a blessing!"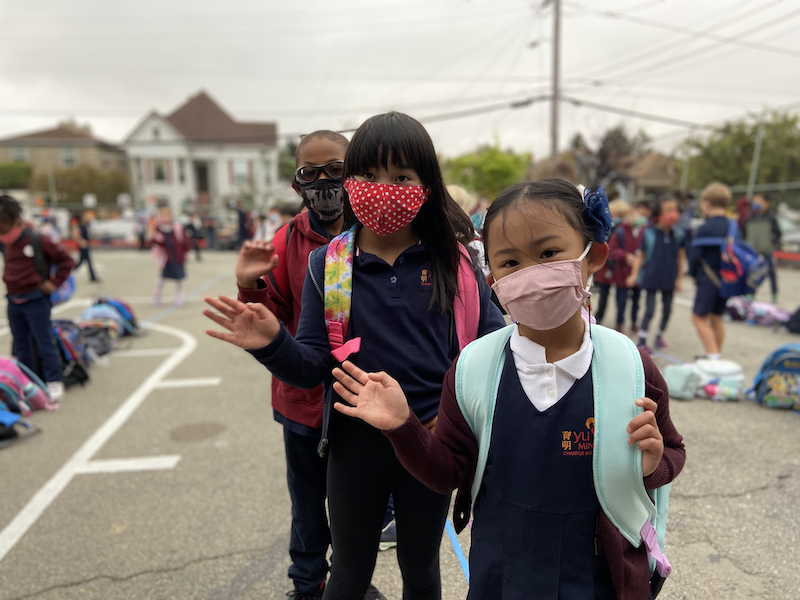 Anticipation and excitement were palpable as teachers and students exchanged warm greetings with bright smiles showing through their face masks.
The Yu Ming team worked hard over the summer and during almost two weeks of professional learning to prepare for this big day, reviewing instructional goals, classroom routines, and COVID safety procedures that include and exceed state and county guidelines. To keep our community safe, twice weekly pooled COVID testing for students and staff kicked off this week.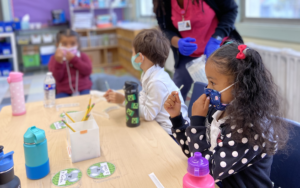 While many believed learning loss would be unavoidable last year, this was not the case at Yu Ming. By reinforcing our relationship-based culture, deep social emotional learning practices, student agency, and targeted instruction, the vast majority of Yu Ming students met or exceeded their grade-level expectations, as shown by both internal and state assessments.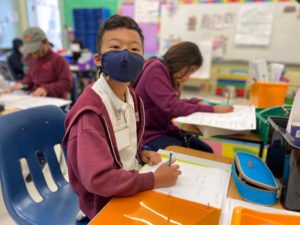 In our spring family survey with 99% of families participating, 96% felt welcome to participate in school, and 98% said Yu Ming provided high quality instruction to their students. "Besides the fact that the Chinese immersion program is awesome, the staff and teachers are very supportive of my children. My kids are at different levels of learning, and more attention is given to the ones that require more assistance, which I greatly appreciate," wrote a parent.
"Last year, with many of our students being isolated behind their computers for the majority of the year, we had to focus even more on their well-being and individual needs," commented Upper School Assistant Principal Wenting Wang. Yu Ming's model pillars centered on both Academic Achievement and the Whole Child; and Mandarin Immersion Leadership within a Diverse, Equitable and Inclusive Community have never felt more important to support each of our student's success.