Academic Excellence
We personalize learning for students to reach their greatest potential.
Unleashing every student's potential
We believe all children can succeed and are committed to unleashing the potential of every Yu Ming student. With a data-driven, rigorous approach, we deliver measurable impact in educational outcomes for our students. We meet each student where they are and create a curriculum that develops them in a community as individuals with unique interests, personalities, and learning styles. We encourage personal expression, independent exploration, and academic excellence. We help our students own their learning, define their goals, and design their growth path.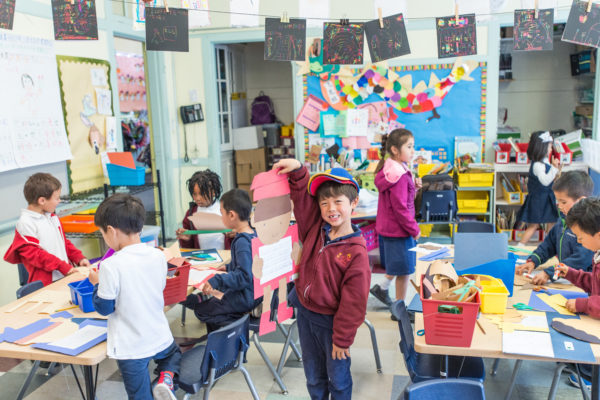 Data-driven, standards-aligned instruction
In order to help our students achieve at the highest levels, Yu Ming staff measure and reflect on our program goals and outcomes through regular data inquiry cycles each year. The school's curriculum is aligned with the ACTFL (American Council on the Teaching of Foreign Languages) Language Proficiency Guidelines, Common Core State Standards, and Next Generation Science Standards. In addition to internal formative and summative assessments, each year the school administers summative assessments in Math, English (California Assessment of Student Performance and Progress, or CAASPP) and Mandarin (Standards-based Measurement of Proficiency, or STAMP; Early Language Listening and Oral Proficiency Assessment, or ELLOPA).
Personalized, inquiry-based learning
Learning is personal and education should be, too. Yu Ming is committed to meeting students where they are academically, socially, developmentally, and nurturing their positive growth through an innovative approach to education so that every student can reach his or her full potential.
We are a personalized learning school guided by data-informed instruction and part of Summit Learning Partners, a national network focused on re-imagining schools so that they are designed for student success with one-on-one mentoring, project-based learning, and student agency.
To learn more about our partners, please visit Our Partners page.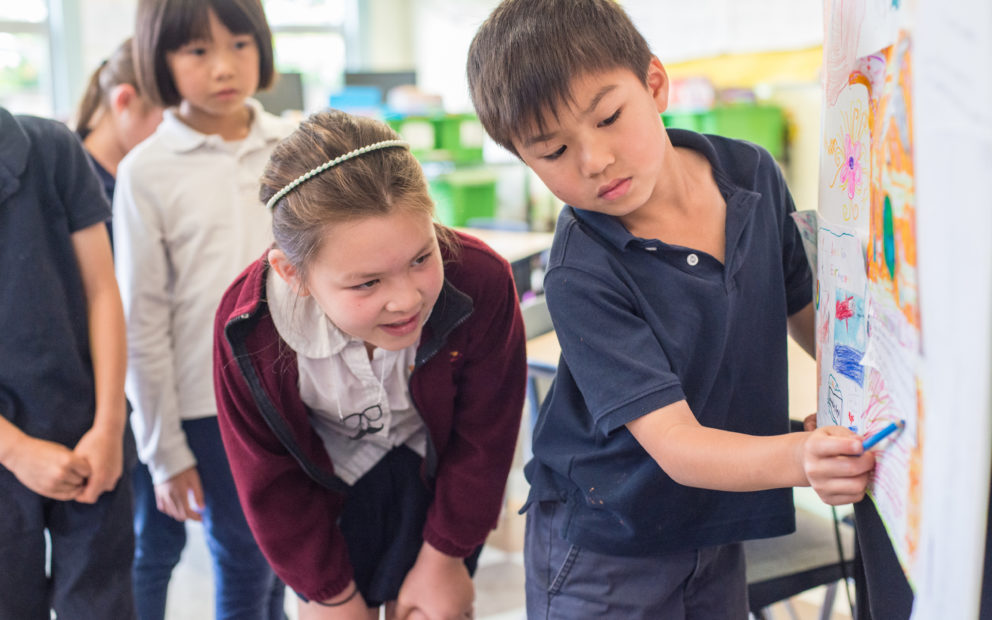 For our STEAM project,

We chose to invent a robot to save the dolphins in the Araguaia river from extinction. I was in charge of filming and editing, and that was probably the most fun thing I did all year!

—France, 7th Grade
Student agency and project-based learning
Combining Personalized Learning with Project-Based Learning (PBL) unleashes student agency. Students take ownership of their own education and learning path. PBL is a rigorous approach to deeper, active learning that challenges students to think critically and work collaboratively to discover solutions to questions grounded in complex, real-world scenarios. Through each PBL unit, students' active engagement with content helps them retain knowledge longer than is often the case with traditional instruction.
More information about Academic Excellence
Assessment, Personalized Learning Goals, and Data Cycles of Inquiry
Student academic progress is measured through diagnostic, formative, and summative assessment, frequent one-on-one conferences with teachers, mentoring, and review of data from online tools. Qualitative and quantitative assessment data is shared with students and parents on an ongoing basis and during parent-teacher and student-led conferences.
Every student has personalized learning goals based on his or her unique needs ranging from academic and skills targets to developing social and organizational skills. In middle school, these are called Habits of Success. Students who may need additional support have access to the Student Support Team (SST) process, as well as a 504 Plan or Individualized Education Plan (IEP) for students who qualify. English Learners are also provided targeted instruction to acquire full proficiency in English as rapidly as possible and meet state standards for academic achievement.
Yu Ming teachers engage in regular inquiry as they work to develop and codify best practices. As the first Mandarin Immersion charter school in California and one of the first in the country to leverage technology-integrated personalized learning instructional practices, the Yu Ming staff engages in regular research and development. Together we review education research and innovations to inform programmatic choices and we regularly reflect on our successes and challenges, student outcomes, and commit to continuous improvement and sharing our learning broadly.
Yu Ming offers an engaging, rigorous and uniquely well-rounded education that is accessible to every student. All students participate in weekly visual and performing arts classes, and upper school students complete projects in our Design Lab that integrate Science, Technology, Engineering, Arts, and Math (S.T.E.A.M.). Students not only gain a deeper conceptual understanding of the material but have authentic opportunities to apply their learning to solve real world problems.
Technology tools are integrated appropriately at every grade level with small group sets of iPads and Kindles in Grades K-2, class sets of Chromebooks in Grades 3-5, and 1-to-1 Chromebooks for all middle school students in Grades 6-8. Our Design Lab is outfitted with state-of-the-art tools, including computers, robotics kits and rapid prototype materials that promote making, designing, scientific modeling, and computer programming. Our S.T.E.A.M program is aligned to the Common Core State Standards (CCSS), as well as the Next Generation Science Standards.