Family Resources
Information for Yu Ming students and families
Schedules and Calendars
2022-2023 School Hours
Carolyn Campus (K-2):

8:15 am – 3:00 pm (Monday-Thursday) or 1:00 pm (Friday/Early Dismissal Days)

Alcatraz Campus (K-3): 8:15 am – 3:00 pm (Monday-Thursday) or 1:00 pm (Friday/Early Dismissal Days)
MLK Site (Grades 4-8): 8:25 am – 3:15 pm (Monday-Thursday) or 1:15 pm (Friday/Early Dismissal Days)
Doors open for drop-off at Alcatraz/Carolyn at 7:25 am (extended care 7:25-7:55 am) and at MLK at 7:30 am (extended care 7:30-8:00 am).
Visiting Yu Ming
All visitors to Yu Ming Charter School are required to identify themselves at the front door for entry. When pressing the intercom, please look into the camera and announce who you are and the reason for your visit. Upon entry, please sign-in at the office and wear a visitor badge while on campus.
Meal Services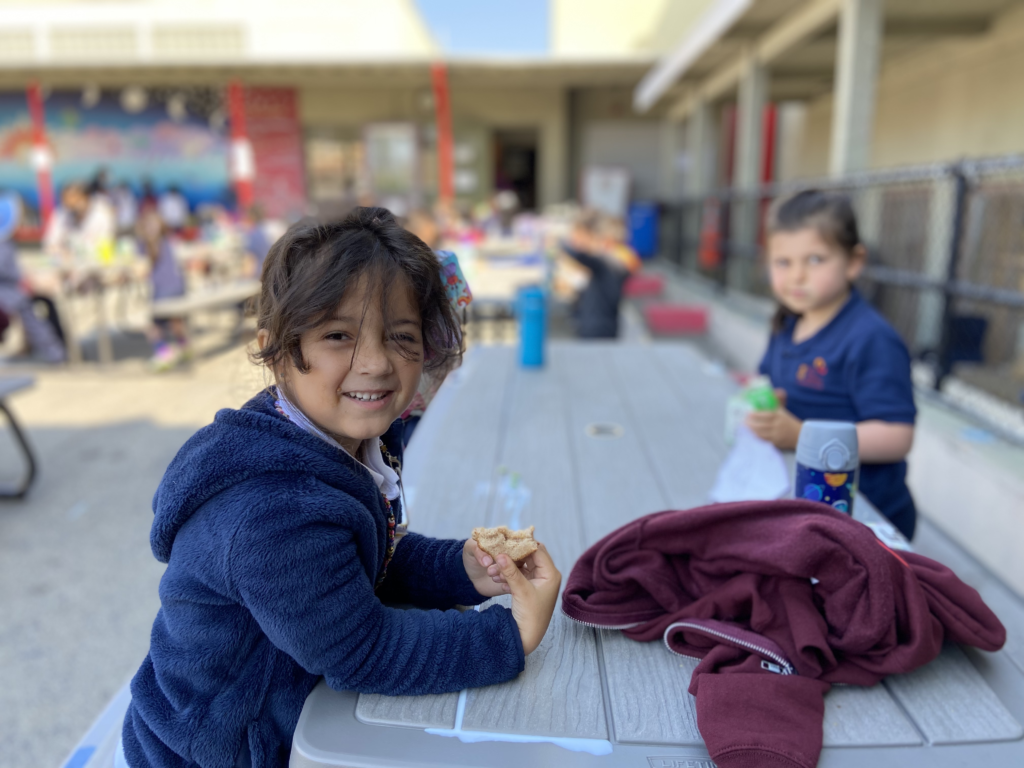 Yu Ming's meal program will continue to provide free meals to all students at no cost for the 2022-2023 school year.
This program is being offered to students and school districts throughout the state of California as part of the National School Lunch Program and School Breakfast Program. Parents can save time and money, while also being assured their children will have nutritious meals. School meals are also an opportunity for children to have a hot lunch and to try new things. Our lunch menu offers a variety of hot and cold entrées, along with fresh fruit, vegetables, and milk.
Please click here for the lunch menu.
Families do not need to sign up or register to receive free meals at school.  We are still encouraging families to continue to complete the Free and Reduced Price Meal Form so that we have accurate school reporting and critical school funding for additional services benefiting Yu Ming students and families.
Extended Care Program
The Extended Care Program (ECP), focuses on the after school experience and support for our students and parents. It offers an opportunity for Yu Ming scholars to cultivate their creativity and explore a fun filled, interactive program. It provides early drop off and evening pick up times for students at lower and upper school campuses.

Students have the chance to choose from a variety of hands-on, psychomotor, and creative activities in a safe, positive, and lively environment. In addition to homework support (in English and Chinese),  students are given time to participate in activities such as gardening, cooking, ceramics, dance, musical expression, and seasonal sports (i.e. basketball, flag football, and track & field).
Registration Information
Parents will be notified of the opening of online registration for the Extended Care Program. Registration is for one semester at a time (August through December, and January through June).
Families who qualify for free or reduced lunch can contact Yu Ming for more information on how to apply for reduced fees at 510-452-2063 or office@yumingschool.org.
Contact afterschool@yumingschool.org for more information on registration fees.
Extended Care Schedule and Hours
Morning Care
7:00-7:45am (Alcatraz and Carolyn)

7:30-8:00am (MLK)
After Care
3:00-6:00pm/1:00-6:00pm (Alcatraz and Carolyn)

3:15-6:00pm/1:15-6:00pm (MLK)
There is no childcare during school holidays or on the last day of the school year.
Early Dismissal "Gap" Care
Early dismissal care will be offered on early release days, which is every Friday and on parent/teacher conference days. This supervised care is provided from 1:00pm to 3:00pm. Contact afterschool@yumingschool.org for more information on registration and fees.
Contact
Phone: 510-922-8631 |  Email: afterschool@yumingschool.org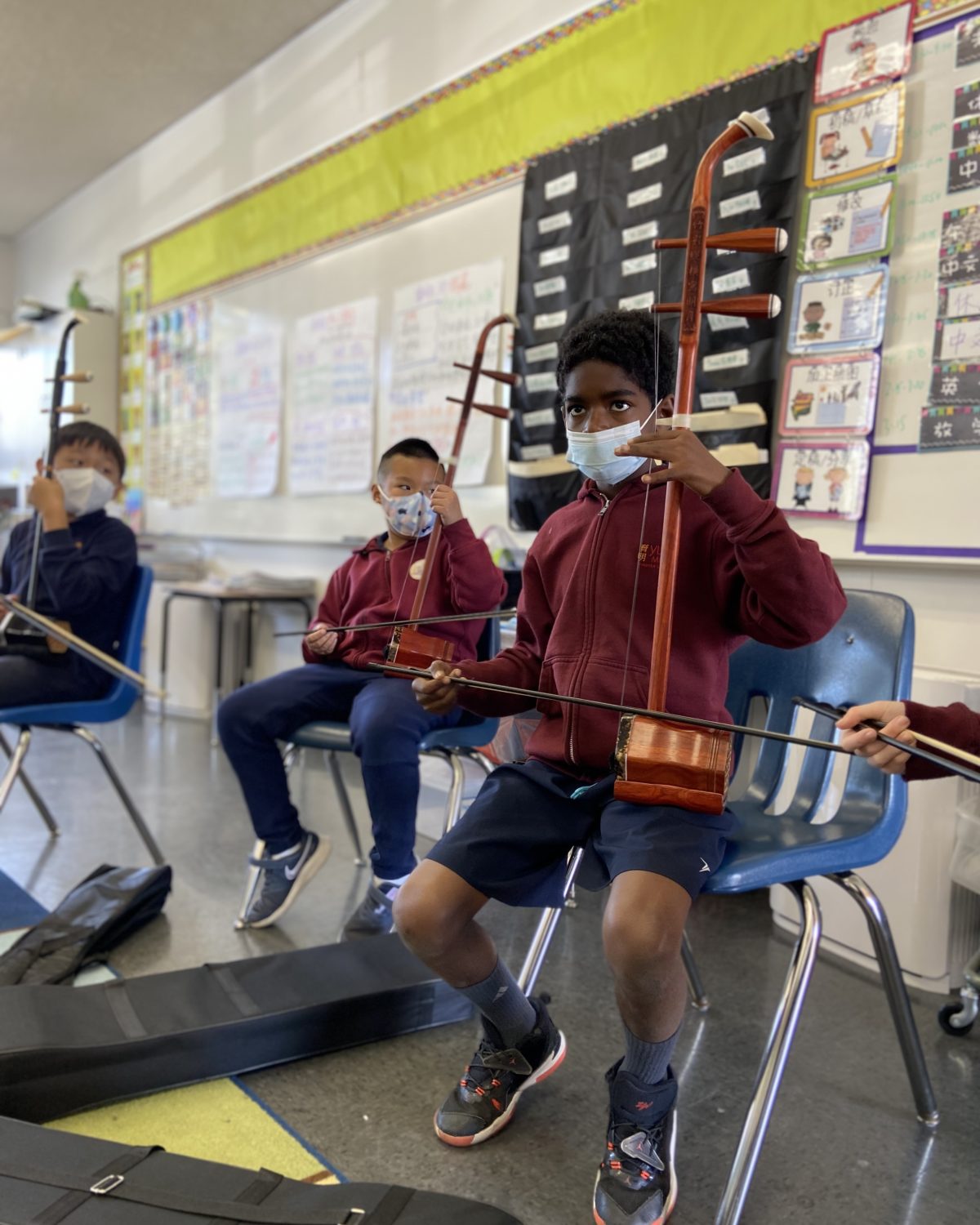 After School Enrichment Programs
To supplement the After School program, Yu Ming is also proud to host a variety of enrichment programs onsite. These programs are offered by third parties at an additional cost. Enrichment classes usually run 3:10-4:10pm Mondays – Thursdays, and 1:10-2:10 pm Fridays. Parents may still need to sign up for Yu Ming ECP if you need care after the enrichment classes end. Contact afterschool@yumingschool.org for more information.
Uniforms
All Yu Ming students are in full school uniform while on campus and on field trips, including sweaters and layers. Yu Ming's dress code includes:
Navy bottom (pants, skirts and pinafores)
White or Navy top with Yu Ming Logo (polo shirts or button down shirts)
Burgundy sweater with Yu Ming Logo (cardigan, sweater, or sweatshirt)
Athletic shoes required for G3-8 are highly encouraged but optional for K-2
White, ivory, burgundy, or navy blue knee-highs, socks or tights
Well fitting mask following face covering CDC guidance (snug fit, no gaps, 2-3 layers, no neck gaiters)
For physical education activities, students must wear athletic shoes.
Yu Ming logo wear is available through several websites: Branding Boulevard,  landsend.com (School Code 900145335), frenchtoast.com (School Code QS5DNEG). The School provides two (2) free patches to every student, one for the student's top and one for the student's sweater. Additional Patches are available for a donation of $2; patches will be available during COVID test pick up and Kinder Welcome days, or visit the office at your campus once school has begun. Families can receive free new or gently-used uniforms and patches from the school.
Please contact Vanessa Valenzuela, Yu Ming's Family Engagement and Outreach Coordinator via ParentSquare, for more information.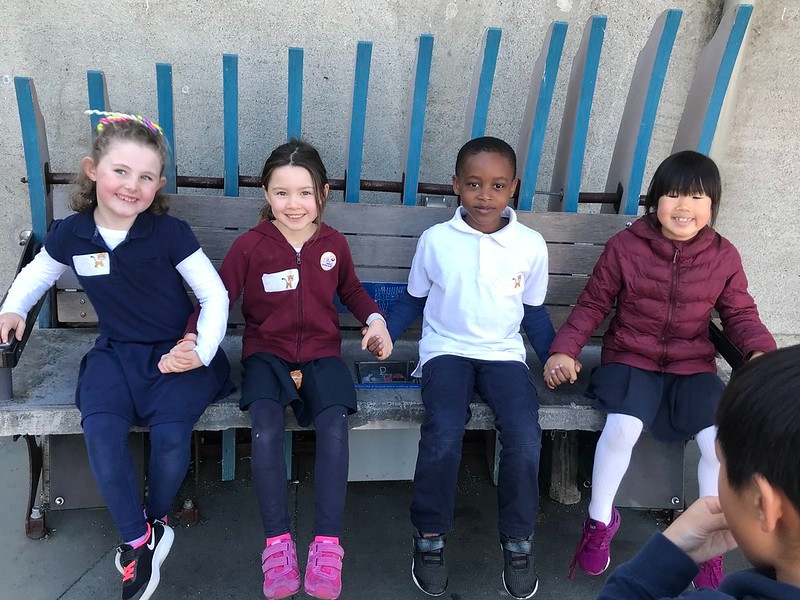 Other Key Information for Families
The Family Handbook contains important information for Yu Ming families, such as school policies.
Education of Homeless Children and Youth
The term "homeless children and youth" means individuals who lack a fixed, regular and adequate nighttime residence. It includes children and youths who (42 U.S.C. § 11434a):
Are sharing the housing of other persons due to loss of housing, economic hardship, or a similar reason; are living in motels, hotels, trailer parks, or camping grounds due to the lack of alternative adequate accommodations; are living in emergency or transitional shelters; or are abandoned in hospitals;

Have a primary nighttime residence that is a public or private place not designed for or ordinarily used as regular sleeping accommodations for human beings;

Are living in cars, parks, public spaces, abandoned buildings, substandard housing, bus or train stations, or similar settings; and/or

Migratory children and unaccompanied youth (youth not in the physical custody of a parent or guardian) may be considered homeless if they meet the above definition of "homeless." 
Homeless status is determined in cooperation with the parent or guardian. In the case of unaccompanied youth, status is determined by the Charter School Liaison.
School Liaison:  The Head of School or designee designates the following staff person as the School Liaison for homeless students (42 U.S.C. § 11432(g)(1)(J)(ii)):  
Yu-Shuan Tarango-Sho
Yu Ming Charter School I 1086 Alcatraz Ave. I Oakland, CA 94608
510-452-2063
The Charter School Liaison shall ensure that (42 U.S.C. § 11432(g)(6)):
Homeless students are identified by school personnel and through outreach and

coordination activities with other entities and agencies.

Homeless students enroll in and have a full and equal opportunity to succeed at the Charter School.

Homeless students and families receive educational services for which they are eligible, including services through Head Start programs (including Early Head Start programs) under the Head Start Act, early intervention services under part C of the Individuals with Disabilities Education Act, any other preschool programs administered by the Charter School, if any, and referrals to health care services, dental services, mental health services and substance abuse services, housing services, and other appropriate services.

Parents/guardians are informed of the educational and related opportunities available to their children and are provided with meaningful opportunities to participate in the education of their children.

Public notice of the educational rights of homeless children is disseminated at places frequented by parents or guardians of such youths, and unaccompanied youths, including schools, shelters, public libraries, and soup kitchens, and in a manner and form understandable to the parents and guardians of homeless youth and unaccompanied youth.

Enrollment/admissions disputes are mediated in accordance with law, the Charter School's charter, and Board policy.

Parents/guardians and any unaccompanied youth are fully informed of all transportation services, as applicable.

Charter School personnel providing services receive professional development and other support. 

The Charter School Liaison collaborates with State coordinators and community and school personnel responsible for the provision of education and related services to homeless children and youths.

Unaccompanied youth are enrolled in school; have opportunities to meet the same challenging State academic standards as the State establishes for other children and youth; and are informed of their status as independent students under section 480 of the Higher Education Act of 1965 and that the youths may obtain assistance from the Charter School Liaison to receive verification of such status for the purposes of the Free Application for Federal Student Aid described in section 483 of the Act.
The California Department of Education publishes a list of the contact information for the Homeless Education Liaisons in the state, which is available at: https://www.cde.ca.gov/sp/hs/
Acceptance of Course Work: The Charter School will accept any coursework satisfactorily completed at any public school, a juvenile court school, a school in a country other than the United States, and/or a nonpublic, nonsectarian school or agency by a homeless student. 
The Charter School will provide homeless students credit for the partial completion of courses taken while attending a public school, a juvenile court school, a school in a country other than the United States, and/or a nonpublic, nonsectarian school or agency. If the student did not complete the entire course, the Charter School shall not require the student to retake the portion of the course the student completed unless the Charter School, in consultation with the holder of educational rights for the student, finds that the student is reasonably able to complete the requirements in time to graduate from high school. When partial credit is awarded in a particular course, the homeless student shall be enrolled in the same or equivalent course, if applicable, so that the student may continue and complete the entire course. These students shall not be prevented from taking or retaking a course to meet California State University or the University of California admission eligibility requirements.
For any homeless student who enrolls at the Charter School, a copy of the Charter School's complete policy shall be provided at the time of enrollment. A copy of the complete Policy is available upon request at the main office.